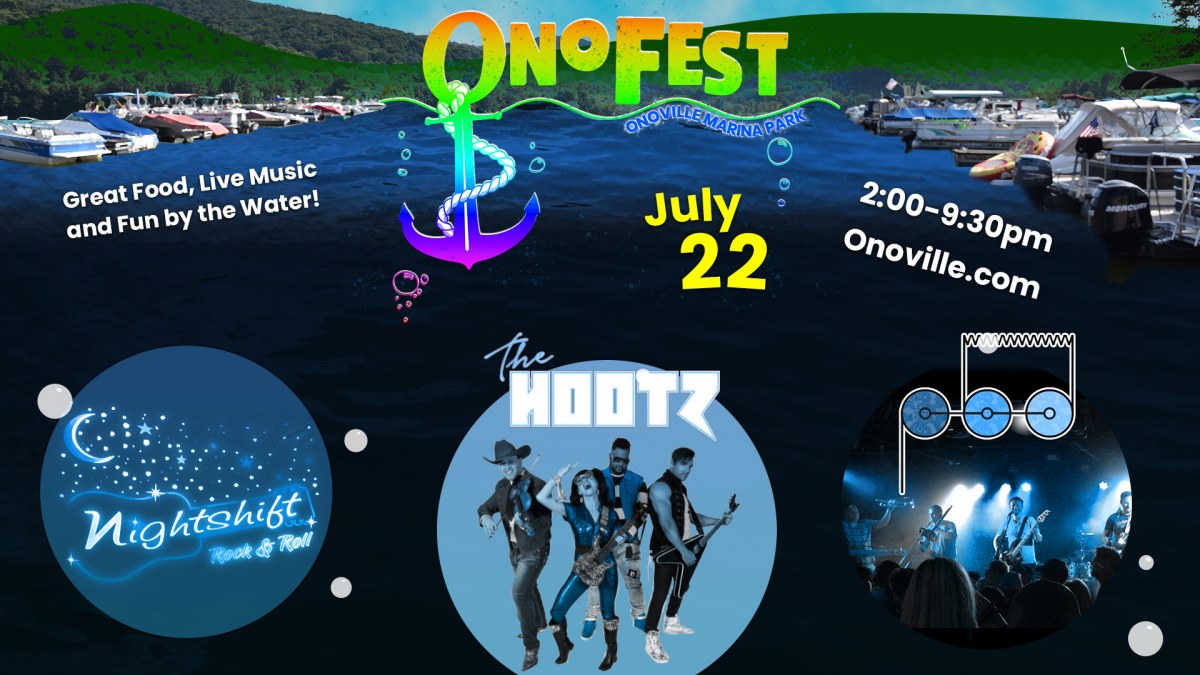 Fun in the sun with live music, food/craft vendors, exhibits, and activities! It costs only $10 a car load; so bring a big vehicle and pack friends and family in!
The Fun!
With spacious skies, hills covered with lush green trees, and sparkling waters, Onoville Marina Park invites you to enjoy a day of Summer filled fun at OnoFest on Saturday, July 22nd, 2023 from 2:00pm to 9:30pm! This event happens in rain or shine.
TENTATIVE Schedule
2:30 - 4:30 p.m. - Nightshift
Rock out with a performance by Nightshift. Learn more about this Frewsburg, NY band on Facebook
5:00 - 7:00 p.m. - The Hootz
The Hootz that brings the party with rock, pop, country and hip hop. Learn more at TheHootz.com
7:30 - 9:30 p.m. - The Porcelain Bus Drivers
Let The Porcelain Bus Drivers take you on a musical journey! Learn more about The PBD on their Facebook page.
9:35 p.m. - Thank You!
We are sorry but there will not be fireworks at OnoFest this year.
What to bring
Bench seats and picnic tables may fill up fast so be sure to bring:
sunscreen
bug spray
chairs
blankets
umbrellas
The event is seeking family-friendly vendors that will set up to display and sell their wares or food. It is desired to have a variety of vendors represented during the event.
Download the Vendor Application
If you have vendor questions then please contact Deb Miller online or by phone 716-938-2318